Eksternt kurs
Global Cotton Sustainability Confrence
09.06.2020
11.06.2020
09.00
17.00
Lisbon, Portugal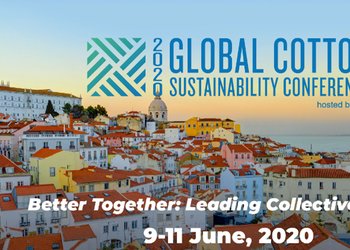 BCI member (price in euro): kr 475.-
Industry (price in euro): kr 900.-
Meld på
Join BCI and partners for the 4th annual conference, where the entire sector will come together to shape a more sustainable future for cotton.
The 2020 conference will dial in on three key themes – Climate Change, Innovation and Social Sustainability – exploring how the sector can collaborate in these areas to create and drive collective impact.
Speakers
The conference provides an opportunity for representatives of the entire cotton supply chain to present their ideas, innovations, successes and challenges in an interactive and collaborative format.
Confirmed speakers include Futerra, The Renewal Workshop, Fair Labor Association, Cotton Inc., JFS and KAL.
If you are interested in speaking opportunities, please contact Membership Engagement and Marketing Manager Daren Abney.
Why you should attend
"It is a great conference because it brings the whole supply chain together and everybody has something to learn from each other" – IPUD
"I really enjoyed the conference. Sustainability is not just about working on environmental issues, but how it impacts people's lives around the world." – American Eagle Outfitters, Inc
For registration clikc here!
Kursholder
Global Cotton Initative
Trainer